Prison
---
This is a day – care center for prisoners' children and children and children from slums and construction sites.
The center is equipped with educational materials and a professional staff to help provide children with basic education.
In 1996, the director of Phuket municipal prison asked CWP to help with the problem
of prisoners who have nobody outside to look after their children.
We set up a day care center in the grounds of the prison and take care of the children in the day. At night they sleep with their mothers.
When the numbers decrease we take in children from nearby building sites and slums.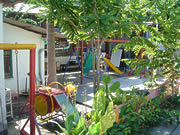 The children often have medical conditions which need immediate care and many have the psychological scars of arrests, constant changes in environment and various traumas from the horrific experiences of their young lives.
Phuket province does not have a resident child psychologist although we are constantly seeking funds to hire one.
IF YOU WOULD LIKE TO SUPPORT US, PLEASE CLICK HERE FOR MORE INFORMATION